The world at large is facing a common threat in the form of the COVID 19 outbreak. India in particular will face great challenges in the coming months in terms of dealing with the challenge of mitigating and finally stopping the spread of COVID19 throughout the country. Indian cities as well as villages shall face the threat of COVID19 outbreaks due to densely populated settlements and return migration from cities to villages. Slums and informal settlements in particular are at risk due to the sheer number of people living in close proximity. Government rescue and relief functionaries, UNICEF, other NGOs, CSR activities and willing individuals are putting in the efforts for providing social protection and healthcare services. 
The risk along with shortages and gaps in healthcare facilities and social protection services can be measured in various ways. The level of exposure to the COVID19 threat and the coping capacity of these settlements to stop the spread as well as ability to treat and manage social protection needs of the people affected shall be at the top of the list of risk indicators. Because of the rapid spread of the pandemic, there is a need to measure and manage in order to stop the spread of COVID19 and map the presence of various threats across districts and states.
The Centre for Development Studies and Activities (CDSA) has created the Community Feedback Framework for Social Protection which uses the iNagrik ecosystem and mobile application. This ecosystem enables various stakeholders to report and track threats and risks at a granular level. The information and data is tracked through the QCM dashboard.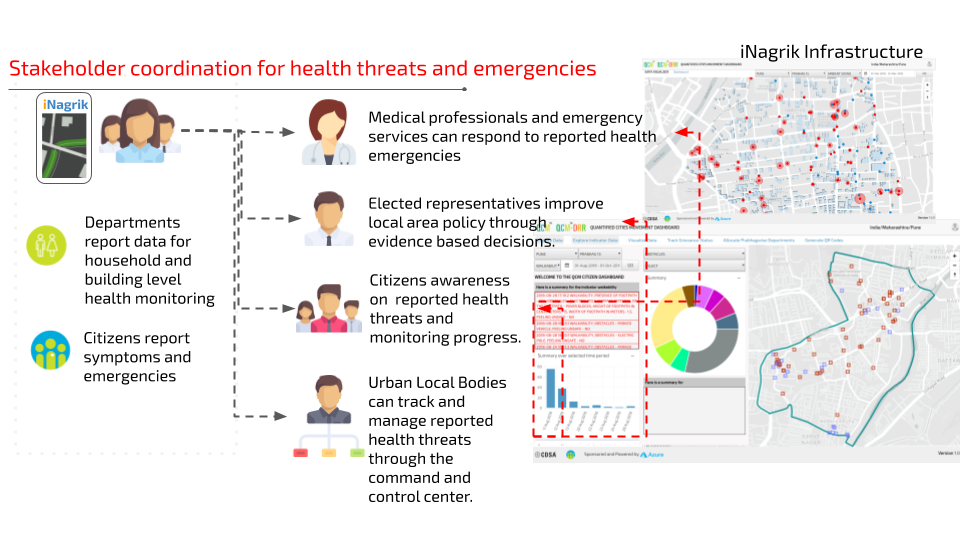 Key Features
The Community Feedback Framework for Social Protection comprises a mobile application, website, infrastructural elements, other software and specially developed algorithms, to enable the collection and processing of data, linked to social protection indicators and health indicators using iNagrik ecosystem framework.
Real-time Surveillance
Monitoring and Coordination Mechanism
Two-way Communication Mechanism
Mapping the location of affected areas and people in need rapidly
---
Download Community Feedback Report on 3 slums in Delhi