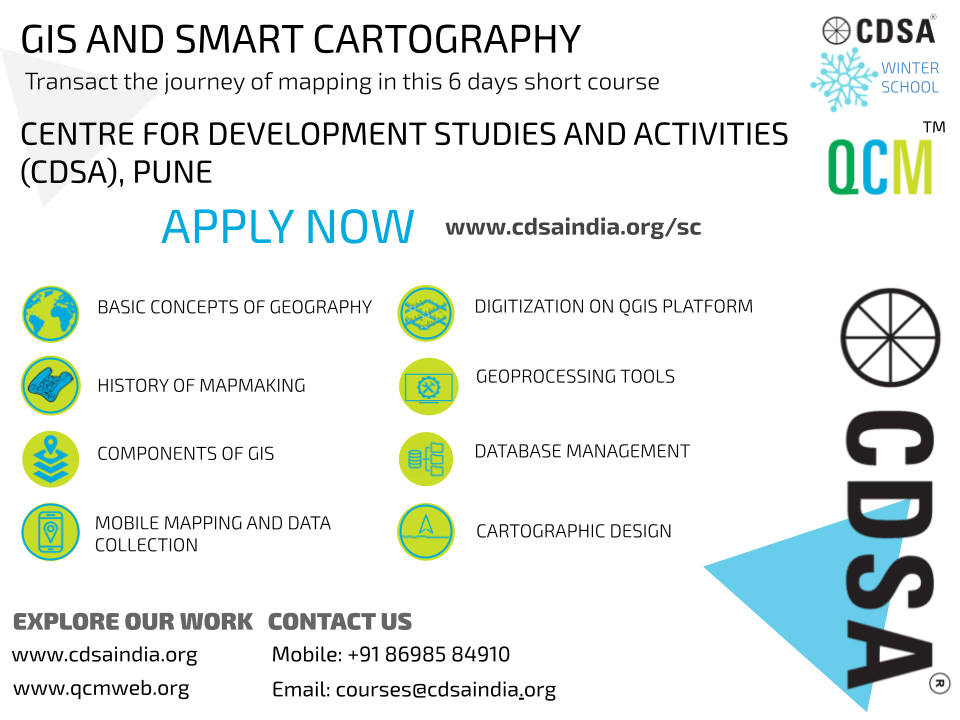 A non-residential short course on
"Geographical Information Systems and Smart Cartography"
There is a need for professionals to gaining skills required to make use of rapidly developing technology, at its maximum potential.
In today's data centric world, when it comes to working with locations, it becomes essential to be able to collect, analyse, manage and represent any information required for a particular field of study. To enable this efficiently, having a basic understanding of GIS can be very imperative.
Spatial datasets are usually represented in the form of maps. Cartography is the science and art of mapmaking which defines the parameters for producing maps. A professional must have a good grip over manipulation of spatial datasets, along with the ability to create their representations with a smart approach.
The Centre for Development Studies and Activities (CDSA), offers a short non-residential certificate course on GIS for mastering the basics of mapmaking. Please contact us to know about upcoming batches.
Learnings from the course
Learn about the basic concepts of Geography and links between data and physical elements.
Learn about the history of the art of mapmaking and its evolution to GIS.
Explore the various components of GIS and how they connect to one another in the chain of mapping.
Learn about various types of datasets, their file formats and the type of their representation.
Learn some basic techniques of data collection and how the data can be imported on a GIS platform.
Learn to use QGIS for viewing, querying and analysing spatial data.
Explore the various Spatial Analysis tools available on the QGIS platform.
Learn to manage raw and processed spatial data.
Work with various Cartographic Elements and Guidelines for smart mapping.
Learn about the basic concepts of Geography and links between data and physical elements.
Who can attend?
Professionals working with NGOs
Working professionals
Individuals working at Regulatory Institutions
Researchers and Academicians
Librarians and knowledge managers
Industry Professionals and CSR Agencies
Environment and Development Consultants
Data providers and consumers in public and private sectors
Government administrators, policy makers and decision makers
Project management units (PMU) under government engaged in urban infrastructure & governance
Graduation and post-graduation students
Course Venue
Centre for Development Studies and Activities
CDSA Campus, Bavdhan Khurd, Pune 411021.
https://goo.gl/maps/R8UaeU3PqyTcT84n7
Fees:
For Indian Applicants: ₹ 10,000/- (including registration fees)
For International Applicants: ₹ 20,000/- (including registration fees)
Course Fees include training kit, lunch at CDSA Campus and tuition fees
Local transportation and food in field is not included.
As there are many enquiries, in order to secure the seat, register in a form available below and pay ₹ 4,000/- (non-refundable) as a registration fees once you receive the confirmation email with payment details.
For International Applicants: Registration fees is ₹ 8,000/
Requirements
Students are required to bring their own laptops and mobile phones (Androids are preferable).
---
---