What is Smell?
The faculty or power of perceiving odours or scents by means of the organs in the nose. To perceive odours or scents surrounding on all sides.
Significance
Strong, unpleasant or offensive smell can interfere with a person's enjoyment of life especially if they are frequent and / or persistent. Major factors relevant to perceived odour nuisance are:
1.Degree of Offensiveness
2.Duration of exposure to odour
3.Frequency of odour occurrence
4.Tolerance and expectation of the receptor.
Though foul odour may not cause direct damage to health, toxic stimulants of odour may cause ill health or respiratory symptoms. Secondary effects, in some, may be nausea, insomnia and discomfort. Very strong odour can result in nasal irritation; trigger symptoms in individuals with breathing problems or asthma. On the economic front, loss of property value near odour causing operations/ industries and odorous environment is partly a consequence of offensive smell.
Ambient Smell map of area near Prabhat Road and Bhandarkar Road, Pune
Find out how we are calibrating perceived smell quality through the Smellometer. One can see that most of the ward falls well within the good smell area except for two areas that can be pinpointed.
Analysis
OUTCOME: AROUND 20% OF THE NEIGHBORHOOD IS AFFECTED BY BAD SMELL MAINLY CAUSED BY GARBAGE
Stresses due to unhealthy ambient smell
Unpleasant odours can arise from specific industrial processes, adversely affecting workers and even residents. The most common sources of odour arise from sewage treatment plants, animal rendering factories, chemicals etc. in the neighbourhood. Unpleasant smell can affect one's mood, can lead to frustration, and non productivity.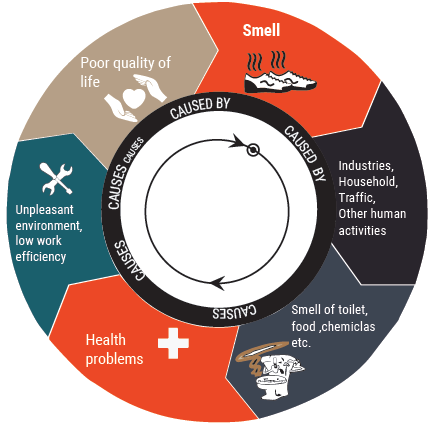 Possible solutions to the stresses due to smell in the neighbourhood
Proper garbage disposal.
Dustbins and other garbage containers must be properly covered.
Better waste management practices.
Public education about sanitation and cleanliness especially in schools.