How are people perceiving smells?
The Quantified Cities Movement (QCM) Team at CDSA was interested in finding out how people perceived different types of smells. We are using smell as one of the indicators of quality of ambient environment which in turn is an indicator for ward level quality of life.
When we carried out the smell survey for our pilot we realized that for certain smells there was no difference in opinion so some smells were perceived to be good and some bad by all the participants of the survey. Everyone agreed to liking or disliking most of the smells listed, but in the case of some smells or no smell, the perceptions varied widely. Thus to calibrate, to some extent, the perception of smell, so as to measure it and represent it with some amount of accuracy, we conducted a short smell perception survey.
Methodology
We decided to carry out the survey online through google forms. The issue was sampling and it still is an issue! But we got 151 responses in 6 days and we are treating this as a starting point. We hope to have 1000 forms filled. This would be an acceptable sample for us to calibrate smell perception with some confidence but for now 151 respondents is a good number.
We will use the random sampling method with age and location as the two main parameters. The questionnaire is designed to understand smell perception on only three qualities viz. like, dislike and neutral. We have chosen 44 smells for judging and will be adding more in the next round of the survey. We hope to conduct two more rounds in order to get a better idea of how people perceive different types of smells.
NOTE: THE SURVEY MUST NOT BE CONSIDERED ENTIRELY ACCURATE AS THE SAMPLE IS STILL LIMITED. BUT IT POINTS IN THE GENERAL DIRECTION OF HOW PEOPLE WILL QUALIFY VARIOUS TYPES OF SMELLS. WE NEED YOUR RESPONSES TO IMPROVE OUR SAMPLE SIZE! PLEASE PARTICIPATE IN THE SURVEY. WE VALUE YOUR PERCEPTION!
Survey results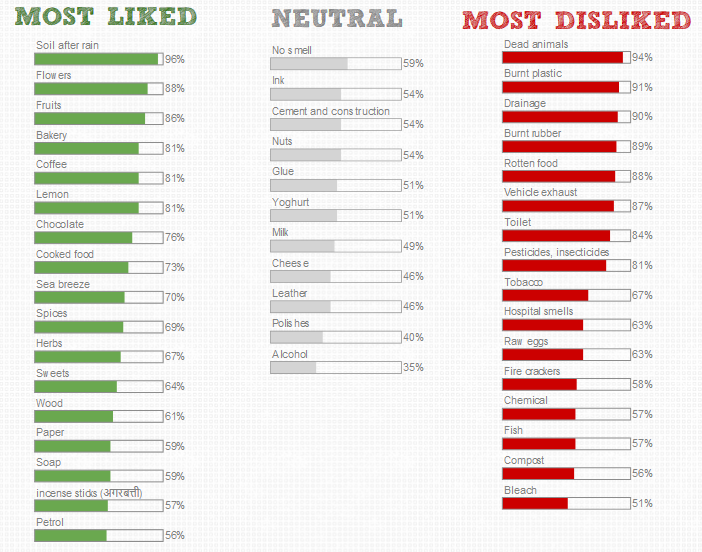 Head back to the Ambient Smell page.